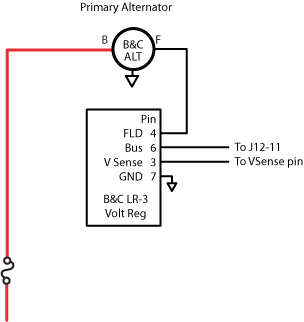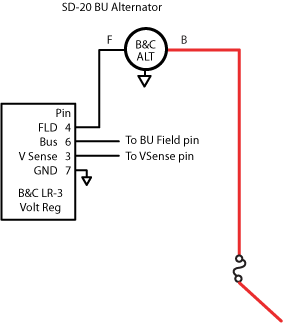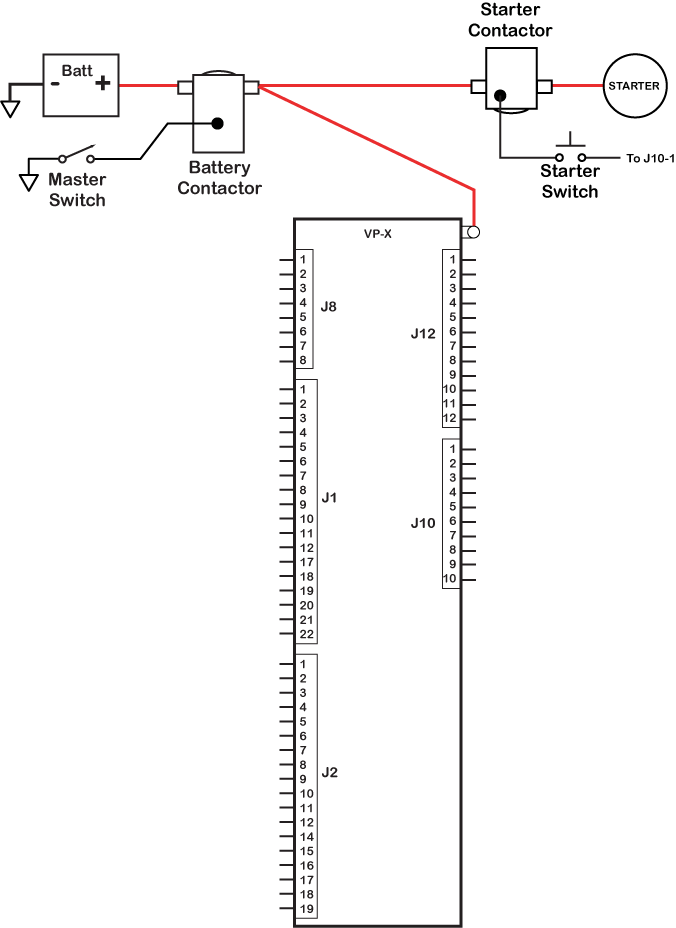 AFCS (5.0A CB, 20awg)
Landing Lt Left (10.0A CB, 18awg)
Audio Panel (5.0A CB, 20awg)
EIS (5.0A CB, 20awg)
G3X (PFD) (5.0A CB, 20awg)
Taxi Lights (5.0A CB, 18awg)
AP Yaw Servo (3.0A CB, 20awg)
Transponder/ADSB (3.0A CB, 20awg)
Starter Switch
G5 (BU EFIS) (5.0A CB, 20awg)
Comm#2 (8.0A CB, 18awg)
Alt - BU - Field (5.0A CB, 20awg)
BoostPump (10.0A CB, 14awg)
Strobes (10.0A CB, 18awg)
Magnetometer (1.0A CB, 20awg)
Nav Lights (2.0A CB, 20awg)
To GND block
Alt - BU - Vsense (2.0A CB, 20awg)
GTN 650 Nav (10.0A CB, 18awg)
Pitot/AOA (15.0A CB, 14awg)
GTN 650 Comm (8.0A CB, 18awg)
To GND block
Flap motor
Flap motor
Landing Lt Right (10.0A CB, 18awg)
AccBlock12 (5.0A CB, 18awg)
G3X (MFD) (5.0A CB, 20awg)
ARINC 429 (2.0A CB, 20awg)
Alternator Field (5.0A CB, 20awg)
Backup Battery (10.0A CB, 18awg)
ADAHRS (2.0A CB, 20awg)
Alternator Vsense (2.0A CB, 20awg)
Roll Trim: +2.5v
Roll Trim: gnd
Roll Trim: pos input
Roll Trim: motor power
Roll Trim: motor power
Pitch Trim: +2.5v
Pitch Trim: gnd
Pitch Trim: pos input
Pitch Trim: motor pwr
Pitch Trim: motor pwr
Flap pos input
Flap pos gnd
Flap pos +2.5v
Serial TX
Serial GND
Serial RX
Starter annunciator input
Aux battery voltage input
Flap Up switch input
Flap Down switch input
Roll Left switch input
Roll Right switch input
Pitch Up switch Input
Pitch Dn switch Input
Alternator (switch)
BU Alternator (switch)
Avionics Master (switch)
Boost Pump (switch)
Land Lt (switch)
Taxi Lt (switch)
Nav Lt (switch)
Strobe Lt (switch)
Pitot Heat (switch)
(switch)
The following device pins also have backup circuits (not show in above diagram):
| pin name | backup method | circuit breaker |
| --- | --- | --- |
| ADAHRS | Method C | 2.0A |
| G3X (PFD) | Method C | 5.0A |
| G3X (MFD) | Method C | 5.0A |
| EIS | Method C | 5.0A |
Buying Guide
Some suggestion to help you source your electrical system.
Vertical Power
VP-X Pro
VP-X Pro Wiring Harness
EFIS Manufacturers
Avionics Dealers and Panel Builders
Electrical Supplies
Alternators
Builder Education Resources
Wiring Checklist
Review the following list to be sure you've included everything in your electrical system planning:
Alternator field
Backup alternator field
Starter
Pitch trim
Roll trim
Yaw trim
Flaps
EFIS
Backup EFIS
Backup battery for EFIS
Radios/Nav/GPS
Audio panel/intercom
Transponder
Autopilot
Avionics fan
Defrost fan
CO Detector
XM Weather receiver
AOA or stall warning
Manifold pressure sensor
Engine monitor
Cabin lights
Panel lights
Seat heaters
Landing light(s)
Taxi light(s)
Strobe lights
Nav lights
Fuel boost pump
Electronic ignition
Hobbs meter
Music player, DVD, etc.
Smoke system
Power outlets
Headset power
Microswitches for doors, canopy, etc.